Eating Psychology
This video helps explain why we eat. That it is not all black and white. Multiple factors effect the food we put in our bodies on a regular
basis. I was informed of the term eating psychology. Eating psychology is the psychological factors that go into our eating decisions on a regular basis. In chapter 21, we were taught that nutrition is a choice that requires constant regulation along with consistency. What you eat has both long term and short term effects on your body.
Powered by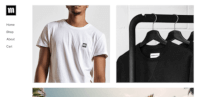 Create your own unique website with customizable templates.